Here I am many months since my last post and things have changed in my life.
The Love Sac
has become the
In Love Sac.
I guess I am one of those success stories you see on television. Who would have thunk it? Yes, I am involved in a committed relationship so my attention to writing a blog about internet dating has waned. I need to re-focus and continue writing. I really enjoy writing down my thoughts and knowing that some people out there who actually
read
them is therapeutic for me. I jotted down some topics that I could write about that I feel people would still enjoy reading about.
Maybe I will write more about what it is like to be in a relationship after being single for close to a decade.
I still get the invites and notifications in my junk mail from the web sites that I would spend hours upon hours sifting through profiles looking for potential dates. As tempted as I am to see who is "checking me out" I know that I am in a good place now and would not do anything to jeopardize that. It's kind of amazing the time and focus you have on other things when you are not continually looking for that next thrill or worrying when you are gonna get laid again. It's like chasing a drug and the next thing you realize is that you are in the bathroom trying to writes messages to women on Ok Cupid at work while you should be sending out that bid to that reality show coming into town. With all this extra time I have mastered American sign language, learned how to throw a knuckle-ball, had a brief stint as a sushi chef and even learned to speak Swahili.
Siku njema
, aibu
yako
ni
ujira wangu
!
There was a point where I would mention my blog on my dates which in retrospect was really douchey of me. At the time I thought it made me seem charming in a way but I must have come off like a pretentious dating know it all and just pretty lame. I am a different kind of lame now. Weekends are filled with activities such as planting herbs, watching movies like "Salmon Fishing in the Yemen" and our weekly pilgrimage to Target.
I guess I always lacked that focus because I "preferred" to be the single guy. Meeting girls was my priority and I got a little obsessed. When that part of your life has been fulfilled you move on to other aspects of your life. No magic trick, it just happens.
I am still a guy though and have yet to master the subtle glance at another female in public. I don't know if that feeling ever goes away. It's in your DNA. You are compelled to stare. My friend Peter would often mock my obvious rubber necking.
We were stupified by their beauty or we could have been stoned.
Here is a pic of us back in the day checking out some chicks in Amsterdam:
I could always write about my family...
My father is in Italy right now and will be there until mid July. He asked me to watch over things at his home while he is away.
Sure Dad, no problem. I have mentioned before how he goes into great detail about little tasks and things that should take a couple minutes to explain takes him 40 minutes to an hour. He pounded into my head on how to start the lawn mower
several
times. Seriously, it was like 3 hours of the ins and outs of an old ass lawn mower that was given to him from a neighbor who was throwing it away. As he goes through the several steps of starting the mower (why are there several steps? You should be able to pull the starter cord and be done with it) he looks at me and says
" You know how to do this son?"
I say yes but it doesn't matter. He's gonna show me again. The day before he left he wanted to show me one more time. I refused and he called me
dummy
. Great Dad, have a nice trip.
My father rarely gets anything new, especially when there is a perfectly shitty substitute in a heap of garbage somewhere. He also never has the right tool to do the job. Sweet Jesus, he uses a flat head screwdriver for scraping paint off the house, a garden shovel, a shish kabob, picking his teeth and every once in a while to screw in something.
Here he is in the middle of my two other uncles hiding one.
This is my Dad's wedding day. In Italy they get married in speedos.










Anyway, he leaves and I am entrusted to mow the lawn without him having to look over my shoulder. I go over to the house a few weeks into the spring and take the lawnmower out of the shed.
I check to see if there is gas*check*
I make sure there is enough oil *check*
I prime the engine by pushing the the button in the front a few times *check*
I make sure the spark plug his connected and tightened *check*
I hold the lever by the handle*check*
I pull the rip cord*NOTHING*
Holy shit, Why isn't anything happening? It's barely turning over. I
am
a dummy.
I leave my parents house defeated and go home. I spoke with my mother and implored her not to tell my Dad. All of the sudden I am 16 again and under the watchful eye of Nino Sacco.
Unlike my father, my mother likes to spend money of course because she is a woman. She offers to buy a new mower. I tell her that we should but wait until next week.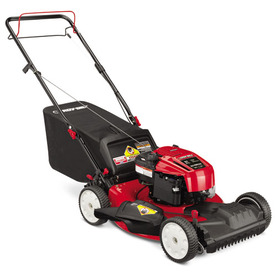 I come back and I fully expected to be going to Lowes and buying a
Troy-Bilt 7.25 Ft.-Lbs. Torque 21" Self-Propelled Gas Push Lawn Mower but I am a determined mofo. I break that thing out and starting working on it. I prime the engine and make sure there are no loose connections. Pull the rip cord and nothing. I am refueling and taking things apart. It was an unusually warm day so I started sweating within minutes. I pull the rip cord. Nothing. Ok, I really didn't take things apart but I refuel and took out the spark plug and cleaned/buffed/shellacked the shit out of that thing. I pull the chord and it TURNS OVER!! I was the happiest kid in the world. It was a small victory for me and I knew that my pops would be proud as hell so I called him. Sure, it was 2AM Italian but this was a big deal! In a tired voice he said I was a "good boy" and meant it!
I wonder if he remembered that conversation the next day. I sure did and had a shit eating grin to prove it. See?
I was trying to hitch a ride in someone's apartment. I went to public school. :(
Finally, I could bitch about work from time to time too.
Why can't work be like Mad Men? I got dirty looks when I proposed having a mini-bar by the water cooler and a napping couch by reception.
-Le Sac
PS. Where have you been Jalapeno, pronounced Jah-lap-pin-oh? Not really his name but I like saying ethnic words incorrectly. This was a kitty that would greet me everyday when I got home in front of my apartment building and would hang out in the hallways until some d-bag in apartment 6 put up a sign and insisted that we could not let him in anymore. He didn't bother anyone! Dick!
He's not dead in this pic. I promise.